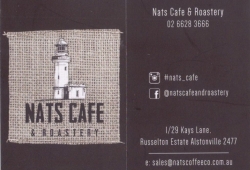 Posted on July 25, 2017 by diane in News

Oh! the aroma of freshly roasted coffee! Nats coffee has again come on board as a premier sponsor for our Craft and Garden Fair. You can enjoy a great coffee from the coffee cart at the fair but if you cant wait till then, pop up to Nats Cafe and Roastery. This is where Nat […]

No Comments. Continue Reading...