Annette Ferguson and the Rose pin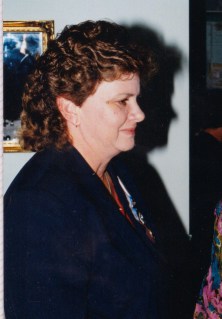 Annette Ferguson 15/8/48—12/4/2003
Annette Ferguson was a very special member of the Quota Club of Alstonville– Wollongbar .
As a charter member of the club she believed very strongly in working for the Community, and was an instigator of many of our local and district projects.
Over the years Annette had her own difficulties and tragedies which only made her more aware of how important it was to give a helping hand or listen to someone's problems at the right time.
She expected no accolades for things she did, and you knew if she was asked to help or go out of her way to do something, it was as good as done.
She was chosen to help organise the Quota South Pacific Area Meeting and spent many hours and months doing the secretarial work for this event in March 2003. Therefore when she took time out to go on a holiday in February to meet an old friend in New Zealand we were all delighted. Little did we dream that this robust and capable person would return two weeks later with a diagnosis of a massive terminal brain tumour. An operation in Brisbane only confirmed our worst fears and she settled back at home to prepare for some treatment to prolong the inevitable. We thought we had some time, and we all tried to give back to Annette a little of the thoughtfulness and caring that she had shown each of us in the past by helping her to cope with simple daily tasks and sharing laughs and good times, even though we had to fill in "words and phrases" which seemed to elude her.
We took her to the South Pacific Area Meeting in a wheelchair, and we cosseted her as she got tired quickly, and the headaches were dreadful.She was able to say hello to all the people she had met from around Australia and the USA . Annette never even considered saying goodbye.
When we arrived home she was very ill and went into hospital the next day. From then on it was a quick progression and within four weeks she died at the age of 54.
Because Annette's death had left such an impact on our small community, and especially our club, we tried to find a way she would always be remembered in the district.
We instigated the Annette Ferguson Memorial Award to be presented at our Annual Friendship Dinner. The friendship dinner is to recognise all the women's groups in our community that do so many varied good works. With the Award of Recognition we now have a $500.00 donation to go to the charity nominated by the recipient.
Annette touched so many people in her unaffected and friendly way that we were very moved when the South Pacific Area Director Carolyn Rice presented the club with a crystal Rose Pin in honour and in memory of Annette.
Each year the pin will be passed on to a member of the club chosen by secret ballot, that most represents the motto of Quota International "We Share" as Annette showed us all how to care and nurture each other, as we never know what lies around the corner.