Our Community Contributions 2018
Alstonville Rural Fire Brigade
Every year the firies roll in and do all the heavy lifting for us at the setting up and pulling down of the craft fair. We reward them with a cheque every year 
We also rely on our community volunteers and thank them with a morning tea afterwards.
Another program in Lismore
Combining with the Quota Club of Lismore we are currently helping Interrelate rebuild their backyard. Extra softfall matting has been put down, children tables and chairs purchased and an out door play gym with a slide has been put in.  Another stage will begin soon.
  Support for Southern Cross K-12 Bus
For over 15 years we have supported the school to keep up the registration and maintenance on this bus. The special needs children are always delighted to receive the cheque at a presentation.
Donation to the Community Pre- school  for their participation in our Craft & Garden Fair each year.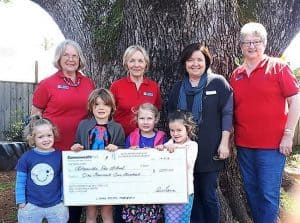 Hope Haven Womens Refuge
We support the refuge with funds and also give them Gift cards to allow them to distribute them to the clients giving them independence & dignity as they try to rebuild their lives. 
Rising Star Scholarship:
This year we again supported Daniel Williams with a Southern Cross Rising Star Scholarship. This is now in its second year and we are very proud of this commitment.
White Cloud Foundation
Our Boots for Boys project was successful and finished with the presentation of a cheque at our High Tea in March. The funds were to be used for the Mums & Bubs program to support perinatal depression.